All clients are not created equal.
Whether it's for the yearly budget planning, allocating team members and skills to projects or just deciding in which meetings you are going to on any given day, there are many moments throughout the year when you have to choose between clients.
In a typical software company, you might have multiple people involved in the conversation: managers, business development, project managers, managing director, sales, account managers, maybe even the owner or one of the co-founders.
It's only natural and human that each of these people will tend to prioritize in their choices the clients they are working with directly. Sometimes this is rational and conscious. Many other times it happens without them even realizing it.
While this might be good for optimizing locally, for each of them and their projects, it's not ideal if you look at the bigger picture and the entire company.
Working like this, you are not striving for global optimization.
The Clients Matrix
This is one way to evaluate your clients' portfolio and make decisions based on a more objective assessment of your reality.
There are certainly many other possible ways. This is just one way to do it. It is the result of my experiences over the years and it is built starting from some tools in classic portfolio management theory.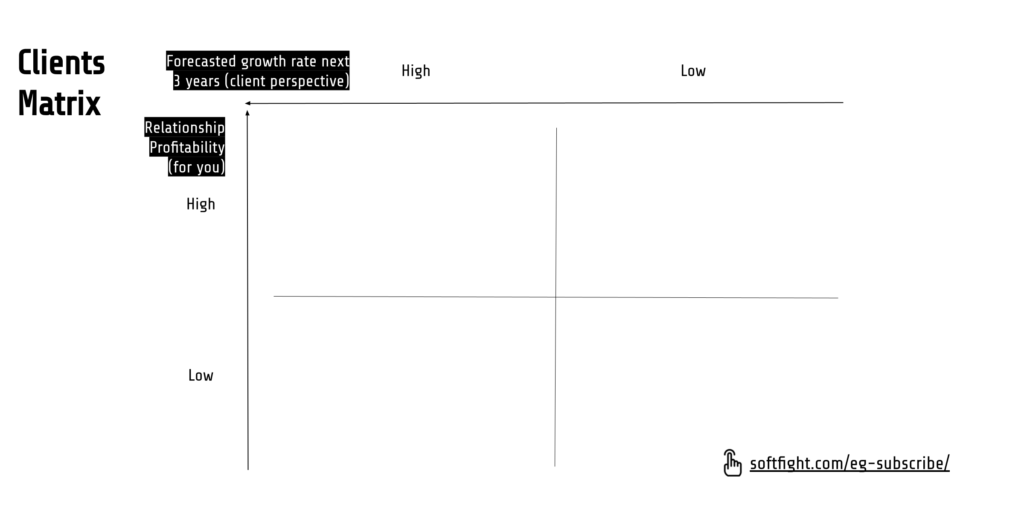 Depending on your strategy and company culture, you might want to replace the profitability metric with something else, which is more important for you and your team.
Team retention is one possible alternative.
Learning opportunities, billable volume, technical challenges – all these can be used as an evaluation metric.
It all depends on what you are looking to accomplish with your business.
WHAT THIS MEANS FOR YOU
If clients are not equal (because they aren't), you need to treat them differently.
You need to spend time and effort to find an objective way to prioritize your clients and make decisions accordingly.
Next week: when and how to use the Clients Matrix tool.